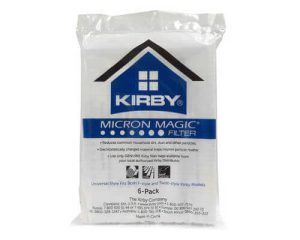 This bag fits Avalir and Sentria vacuums and is the best bag for this machine.
2 vac bags in a pack. Kirby part number 205811 and 205811A.
Micron Magic Allergen filtration vacuum cleaner bags for Kirby vacuum models:
Avalir 2
Avalir
Sentria II (Sentria 2)
Sentria
Sentria using Style F Function Fit bag
G10 and G10D
The Ultimate G Diamond Edition
The Ultimate G
G7D and G7
G 2001 Limited Edition (G2001)
G 2000 Limited Edition (G2000)
G6 and G6D
Gsix (G six)
G5 and G5D
G4 and G4D
Generation 6
Generation 5
Generation 4
Generation 3 and G3D
Legend II
Legend
Heritage II
Kirby model 2HD (2-HD)
These bags fit all Kirby vacuums that use a Style F OR that have a round vacuum bag outlet.
Kirby bag 205811 is the same size as Kirby bag numbers 205808, 197208 and 197209.
Universal Style bag fits both F-style and Twist-style Kirby models.
Electrostaticaly charged material traps micron particle matter.
Replacement for Kirby bags 205803 and 205808.
49-2454-06